---
Mithridatic name has not hit the front pages of music magazines yet, but its 12 years of activity, and above all the musical fruit of it, whose taste and quality encourages a more frequent collaboration with their work it is just a matter of time. Darkness and energy dripping from their songs will satisfy many death and black metal fans, therefore right after listening to their new album "Tetanos Mystique" I couldn't stop myself from introducing this five crazy Frenchmen to all of you people. If you haven't absorbed the madness of Mithridatic sounds yet, read this interview.
Arek
Greetings! What happened in the history of Mithridatic since it's divided into two periods until 2011 and from 2013?
Guitou: Hi! In our first period we struggled a bit to make a record with a great production, but we did many shows in our city and nearby. Nonetheless our efforts never allowed us to leave the country, so we had a break due to different ways of life for some and laziness on my part… then we got in touch with Kevin, which was not easy, but he came to Lyon to rehearse few times and to Saint Etienne to be closer to our roots. We had to learn a new confidence to rebirth more powerful materials and we did ''The Hunt Is On'' that introduced the new line-up and put Mithridatic on the tracks for new brutal shit… In 2016 we unleashed "Miserable Miracle" with a lot of shows and a tour through Europe with Melechesh and Nile. We realized that Mithridatic was back stronger than ever and, with a good feeling between the members, we could achieve some goals! In September to December 2018 we re-started the writing and recording process to take our music to the next level of brutality, so one year later here is "Tetanos Mystique" available 2019 Friday September 13th, I got superstitions haha…
Which one of you is fascinated by ancient times? Did the whole activity of the Mithratic dynasty weigh in on the choice of the name or just their wars?
Guitou: Even if the Mithridatic wars are quite interesting to study, none of us are fascinated by ancient times. We're not an historical themes band. We used Mithridatic as a tool to describe the perpetual intoxication we need to struggle in this poisoned world, 'til the end… living our lives with the capacity to overcome all kind of threat or menace with our power and our resilience.
Ok, let's talk about music, Mithridatic style is described as blackened death metal. Do you, as creators, feel bothered by such pigeonholing of bands?
Kevin: Of course, to put music in a specific category is tricky and this process has inherent limitations. Is that category of music prior to the music itself? Such a statement is silly, because the music exists before we call it "something". A creation is needed before we can use a frame to talk about it. So we need this frame to understand music and talk about it, but this is nothing more than a tool. We make the music we want to make, I think it is fair to call it blackened death metal, this is not a misleading statement, but of course, it doesn't summarize everything we try to do, I hope!
"Tétanos Mystique" sounds cleaner and more death metal than your debut. How do you judge the implementation from the perspective of time, are you satisfied?
Kevin: Well I definitely agree with you. When we were making this album, we didn't choose to make it more Death Metal, with a bit less atmosphere. After "Miserable Miracle", we were happy with the result, except for one thing: some guitar solos had been missing, especially compared to our demo, which included 'Hunting Fever' and 'Broken Glass Rain'. Lot of lead guitars, but not so many guitar solos. So for "Tetanos Mystique", the only rule we gave ourselves was to include more guitar solos. Does this imply a more death metal album with less atmosphere? Maybe… Anyway it happened. It took me some time to compare "Tetanos Mystique" and "Miserable Miracle", and I guess when we were making the album, nobody was aware that is was going to be more brutal and death metal. We were even afraid that it was not going to be brutal enough! I'm glad this album is a bit different than "Miserable Miracle", both musically and production-wise. To me, it still sounds like us, but just a different version of us.
According to the note sent by Xenokorp, the title of your second album was taken from the book of French writer Roger-Gilbert-Lecomte "Tétanos Mystique", and that the album is based on the books of another writer Louis-Ferdinand Celine, as well as Charles Bukowski. Will you tell us more about them?
Guitou: That's right, I've been seduced and shocked by Roger Gilbert-Lecomte and this title "Tetanos Mystique", it sounded great, but I've never succeed to have access to the original text. Disappointed, I've read back his masterpiece "la vie, l'amour, la mort, le vide et le vent", a book of poems. I also used his "correspondences" with the brotherhood of "le grand jeu", that describes his run after drugs and boundless worlds. The fact that he wrote his first poetic work called "Le Tétanos Mystique" and that he died of a crisis of that same disease…THIS is fascinating for me.
Michel Bernanos and it's amazing "La montagne morte de la vie (eng: The other side of the mountain)" inspired me too to describe strange worlds, the feeling of being abandoned in an unknown and hostile cosmos…great author by the way!
Then in the background I focus on the pessimism and sarcasm, I already worked on "Miserable Miracle" with these authors and Louis-Ferdinand Céline and Charles Bukowski that really help me to make a kind of frame and an end-time message.
For me the title of the album resumes the feeling that the lord's rope is slowly clutching your throat and the devil's claws are tearing holes in your legs.
Why, after the release of the concert CD - Live At Le Fil St-Etienne December MMXV in 2017, only a year later you decided to release another concert album?
Kevin: Well, the first one we released was not really an album, just some songs from a show, that we decided to offer to anyone that would purchase "Miserable Miracle" on our bandcamp. We had the opportunity to record a show, last minute, and these songs are extracted from that. Things were a bit different for the complete live album. This time, we arranged, with the venue, the recording session, so everything was planned. We wanted to have something better than the first time, because we were excited by the result of the first try, even if it was not very well prepared. The goal was also to have a full video of the show. This is why this complete live show is available also on Youtube.
For a metal band with 12 years in existence you have a fairly stable lineup. How did you manage to last together such a long time?
Guitou: Everyday life difficulties and struggles unit us in a certain way, we really need to express these feelings in an extreme measure. 
Kevin: Also, we don't put too much pressure on ourselves. In some bands, line up changes all the time because they are asking each other very difficult stuff to do, and sometime, you make a lot of effort for a very small result… So at some point you are just done. We just want to play all together, and we try to deliver to an audience when we are ready. I guess we just like to play together, and together we also achieve something that is beyond what we could do by our own individualities.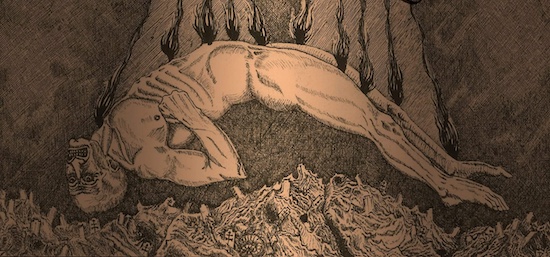 It's was Kevin who replaced Simon on the drums quite early, but he's a very busy guy, do you have any problems with planning tours and shows?
Guitou: Kevin has priorities that we all accept in the way that he still has pleasure to play with us! He is really involved in Mithridatic project and gives a good dynamic work that fits with the rest of musicians. We like the job and the character.
After the debut album "Miserable Miracle" you caught the wind in your sails, was it good reviews, or was it the excess of black energy that is buzzing in your veins?
Kevin: That was a surprising debut album for us, with a good opportunity to tour with Nile and Melechesh. We really don't know what happened with that album to be honest, it created some buzz, and we were very pleased of course! 
I really like both of your albums for the hooks and loads of energy. I regret that I have not been able to see you live yet, only Kevin when he played with Benighted. Do you have any plans for tours after the release of the second album?
Kevin: We have some gigs planned for this album in december. We are in Lille (Fr) the 17th, in Geleen (NL) the 18th, next day we should be in Belgium, and then we will be in Paris the 20th, and in Lyon the 21st. As Guitou mentioned it before, I have a complex schedule, and to be honest, this is also why we don't tour so much. I would love to tour more with Mithridatic, but that is very tricky. None of us is really good at booking shows too haha! But I hope we will play nearby very soon so you can come to the show!
France has a fairly complex metal scene; do you sometimes find yourselves on the other side of the stage despite your musical involvement?
Guitou: Yes, you're right French scene is a quite complex thing… I try to assist at the maximum amount of shows I can, including festivals, but money is the war nerve… so I'm used to go to concerts in Saint-Etienne which has many punks shows that I enjoy to go for many years now. I support the local extreme scene here a lot, no bullshit we got the monsters Benighted that I've seen more than 10 times on stage, there is also the grind duet of Waefuck in the region that tours through the whole world and gives brutal as shit sets! they're such nice guys!
And touring with Mithridatic gave me the opportunity to discover a lot of bands, so I've been really impressed by Ad Patres too, by their devotion to death-metal and the really brutal atmosphere they give at their shows… Svart Crpwn has a particular intensity on stage too, and Kevin played with them for a long time… but there so many that I've not seen yet or to see a second time, bands like Disowning, Iron Flesh, Gronibard, and so many others… so many motherfuckers to be impressed by!
Thanks for the interview and hope to see you 'live' sometime.
Guitou: don't worry you will! Thanks for the support.
Entered: 9/10/2019 11:01:26 PM
1.75k
---
---