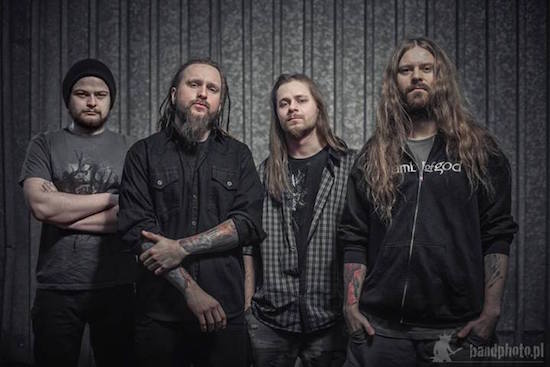 Polish death metal masters DECAPITATED have released an official video for the track 'Veins'. The unique animated video was created by Polish based animator / concept artist Łukasz Rusinek and depicts an apocalyptic universe featuring droids and feuding superpowers. Watch video below:
Łukasz commented on the video: "Animation is an area extremely time-consuming and the fact that I work alone only adds to the sad fact that, especially during complex productions such as the video for the song 'Veins' by Decapitated, my little ones await their father to come back home in the evenings in vain and my newlywed wife withers at the window longing to see me. Despite these minor inconveniences, I do not complain because I love to combine sound with vision.
On most occasions I prepare scripts myself. And so it was this time. I came up with a short story with the apocalypse in the background, set in a slightly imaginary universe in which droids fight on battlefields instead of humans, intelligence cells of feuding superpowers plot their rise to power, and the relics of the Cold War keep waiting for someone to finally press that 'damn button'. Enjoy."
The video is being released in support of the Decapitated's forthcoming tour dates across the US, EU and UK. Speaking about their international dates, the band commented: "We can't wait to start the touring ahead - we're in America, Canada, UK and Europe with some great bands and look forward to playing in front of our loyal Decapitated fans across the world!"
Catch the band live in 2016:
2016-01-27 Denver, CO (Marquis Theater), US
2016-01-28 Des Moines, IA (Lefty's), US
2016-01-29 Minneapolis, MN (Skyway Theater), US
2016-01-30 Chicago, IL (Reggies Rock Club), US
2016-01-31 Cleveland, OH (Agora Ballroom), US
2016-02-01 Toronto, ON (Mod Club Theatre), CA
2016-02-02 Quebec, QC (Le Cercle), CA
2016-02-03 Allston, MA (Brighton Music Hall), US
2016-02-04 New York, NY (Marlin Room at Webster Hall), US
2016-02-05 Philadelphia, PA (The Voltage Lounge), US
2016-02-06 Frederick, MD (Cafe 611), US
2016-02-07 Virginia Beach, VA (Shaka's), US
2016-02-09 Fort Lauderdale, FL (Revolution), US
2016-02-10 Saint Petersburg, FL (State Theatre), US
2016-02-11 Atlanta, GA (Masquerade), US
2016-02-13 Dallas, TX (Gas Monkey), US
2016-02-14 Austin, TX (Mohawk), US
2016-02-16 Albuquerque, NM (Sunshine Theatre), US
2016-02-17 Tempe, AZ (Marquee Theatre), US
2016-02-18 Las Vegas, NV (House of Blues), US
2016-02-19 San Diego, CA (House of Blues), US
2016-02-20 Pomona, CA (Glass House), US
2016-02-21 San Francisco, CA (Regency), US
2016-02-23 West Hollywood, CA (Whisky A Go Go), US
2016-03-02 Bristol (Marble Factory), GB
2016-03-03 Birmingham (Rainbow Warehouse), GB
2016-03-04 Glasgow (Garage), GB
2016-03-05 Manchester (Academy 3), GB
2016-03-07 London (Electric Ballroom), GB
2016-03-08 Colchester (Arts Centre), GB
2016-03-09 Plymouth (The Hub), GB
2016-03-10 Nottingham (Rescue Rooms), GB
2016-03-11 Brighton (Concorde 2), GB
2016-03-12 Norwich (The Waterfront), GB
2016-03-29 Berlin (Musik und Frieden), DE
2016-03-30 Hamburg (Logo), DE
2016-03-31 Köln (Luxor), DE
2016-04-02 Amsterdam (Melkweg), NL
2016-04-03 Aarschot (De Klinker), BE
2016-04-04 Luxembourg (Rockhal), LU
2016-04-05 Paris (O'Sullivans), FR
2016-04-06 Lyon (Le Ninkasi Kao), FR
2016-04-07 Zürich (Komplex), CH
2016-04-08 Milano (Lo Fi Club), IT
Entered: 1/22/2016 3:56:17 PM