---
They are the leaders when it comes to symphonic albums nowadays. Can't think of any other band that would have such well-matched classical element with metal element. This perfect combination has been recorded live this year in Mexico and I'm sure all fans are as anxious as me to see it. I've had the opportunity to see how it all works live and putting all orchestrations in the same line as the rest of instruments from the band is a fantastic idea. It was an amazing experience and the band gave a fantastic stage performance with Spiros maintaining the contact with the audience at all times and Psychon filling in for Sotiris. Impressive drumming from Krimh and obviously fantastic guitar lines provided by Christos. Also, the setlist was varied, I've heard tracks from "Communion", from "The Great Mass" from "Titan" and obviously most of them were from "Codex Omega". I've been very lucky to spend some time talking to Christos, the main composer in the band, before the show, enjoying sunny weather and sitting outside Proxima club in Warsaw.
Maciek
So, first of all, thank you very much for your time, Christos. How are you feeling after your first show played in Poland on this tour?
Great. Amazing show. It was a bit hot, but was great show, great crowd, great energy, amazing.
How would you summarize your European tour so far?
It's going well, it's a long tour, 7-week-long tour. Now we're on our last 3 weeks. It's tough, but sometimes you have to do some things in order to promote the album. It's going great, good conditions, and when you have good conditions it helps you a lot in tours that are that long.
And after this show how many shows you've got left?
I think we have 18 shows after that. Out of 45. It's nearly at the end.
OK. Now it's an interesting line-up: Septicflesh, Diabolical, Krisiun and Science of Disorder. How did you come up with this?
It was an idea coming from the agency. We don't have much say in who we would like on this tour, we can say if we have some ideas. Krisiun are great guys, we already played a tour with them in the US. Diabolical, I didn't know them before, but great guys, too. It's a good package.
Yes, and different types of music as well.
Yes, it's good to have a variety in the package.
And what setlist have you prepared for this tour?
You know, we aim more for Codex Omega, it's still Codex Omega promotion cycle.
How are you dealing with the orchestrations when on this tour?
Well, we have orchestra playing through the laptop. There's no other way. It's quite obvious, as you can't have the whole orchestra going with you. And I don't think keyboards would be able to reproduce the sound of an orchestra.
Do you have any special line-up, any extra people to help you on tour?
Yes, we're 8-people band, including a crew. The band is still 4 members on stage.
What kind of characterization have you got prepared for tonight's show? I remember you saying in one of the interviews that your costumes are quite heavy and it's getting hot inside...
Yes, I don't know how the ventilation works tonight, but yes, it looks OK. But I'll let you know after the show. (he didn't, by the way - M.)
Do you prepare anything else, apart from your costumes? Is there anything like pyrotechnics or anything like that?
No, unfortunately we can't have any pyrotechnics. But we'll have some geysers (foggers), actually we had four of them, one broke and we'll have to use only two tonight.
Now I'd like to ask about something that is probably big for every band. You have just reached the stage of your career when you suddenly take on a big project. And you have just realized that project in Mexico, your symphonic concert.
Well, it was for sure our biggest achievement, it was a very hectic project, a lot of people involved, you have to be really organized, really focused in order to overpass any difficulties that can appear. But it was a great show, for sure it was our best live experience, until the next one.
Have you ever thought of taking live orchestra to your live shows?
Till now we had only this one in Mexico City. But you never know what will happen next. We might do more shows. You never know.
And after finishing the recording stage, how long does it take before it's released?
It depends. I think after the mix, recordings can take roughly around 6 months.
So, you're planning to release it this year?
We aim for release in 2020, but I don't know when exactly.
How long did you have that kind of idea of recording such show? Septicflesh were using orchestrations for quite a while now.
Since Communion we use real orchestra, and we always had this dream to perform with a symphonic orchestra. We did it and, as I said, we hope that more of that will come.
Are you the person who has the final say when it comes to all arrangements or how it looks like on live shows?
No, we are 3 people that are composers, main composers, at this show it's only me and my brother because Sotiris couldn't come with us. But it's a teamwork.
So, the fact that you are most educated in that field does not make you the main decision maker?
No, my brother is also educated in fine arts, I am educated in classical music.
Do you use that knowledge in your composing, especially at the start?
Of course, if you need to orchestrate you need to know how to orchestrate. You need studies.
How is it when you work in the studio, recording the album? Do you also work on how other musicians express the lines?
I give them specific details and guide on how to interpret the melody line. It's something normal for classical music, you always have the composer giving the guidelines to musicians in order for them to follow the score and reproduce it, in terms of dynamics, color, texture, everything.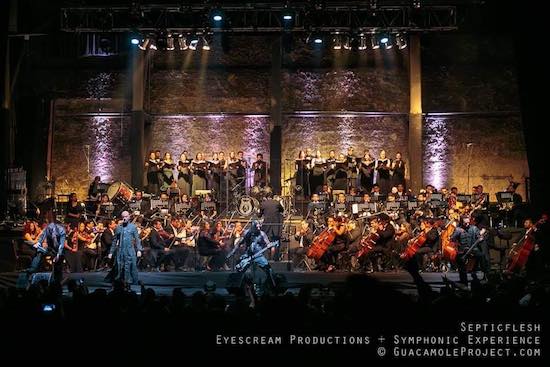 Is the band involved in the final mix, the final mastering and what is the final sound reached on the album?
Of course, Jens Bogren did the last album and he's going to do again the new album. He is an amazing producer, but he has to follow some of our ideas, on how we want to sound, how Septicflesh should sound. 
I've recently seen you showing off your ROLI Seaboard. Is it an instrument used to compose or record your keyboard parts?
This especially is very useful when you compose. Of course, can be used for recording, too. It has many possibilities and many ways to express my music using this ROLI keyboard, it has unique glissado effect, you can make a line become alive, in a way. It's very useful.
You've mentioned who will be producing your next album and from what I've checked you have been mentioning new material being written since 2018. At what stage are the new songs now?
Well, we have some ideas, but because we have some tours that stopped our composition progress, it's too early to mention anything. But we have been in the studio, we're going to do it again in the summer, we'll give all of our best, our best efforts to create something that will satisfy our band.
You mentioned many times taking inspiration from Greek history. What will be the subject of your next album?
You know, so many bands take many Greek elements, because the Greek history is very rich. It is something that we should do, too, it is in our veins. Sotiris is in charge of lyrics, he mostly covers themes and subjects varying from Egyptian mythology through Greek mythology, Greek history, Lovecraft and many other ideas. I don't know what will be next, he's the person you should ask. I think it will be in the same pattern in a way, we're more into this kind of lyrics, instead of attacking Christianity. Attacking Christianity is kind of a trend right now, and basically always was. For me it doesn't say anything.
When creating songs, do you usually compose them in the same order that they end up on the album? 
You always have to change, in order to please your ear. Because the final judge will be your ear. It involves a lot of changes to achieve that, it's a long process, sometimes you have to change even 90% of the song that you had in the beginning. But it's how it is, it's the beauty of the composition, in a way.
You also mentioned at some point your dream to create your own opera. How is this project progressing so far?
Well, I have done some work, I might do a concert work in 2021, but I don't have time. Maybe in future I can do something, like an opera or something similar. I try whenever I have free time to compose for my concert works, but it's not easy. It is a totally different world, and it even needs more effort.
Do you do anything else outside Septicflesh at the moment? Any update from Chaostar camp?
Chaostar released an album a year ago, at the moment they are "on the ice", because there's no time. At the moment my main focus is on Septicflesh.
What are the nearest plans for Septicflesh?
The Codex Omega tour cycle is nearly at the end. We might tour in Russia soon, I don't know for sure, but we'll also do some festivals, like Wacken, some others, but not a lot because we have to compose. We will use the summertime to mainly compose new material.
OK, good to know, will keep fingers crossed to hear some of that soon. Any last shout out to the fans?
I would like to thank all of our fans in Poland that have supported the band throughout all of these years and we'll always do our best to not disappoint them.
Thank you very much again and see you on the show.
Thank you, see you there. 
P.S. Huge thanks to Kelly Liza Cronje for support and question ideas.
Entered: 4/15/2019 7:50:18 AM
797
---
---